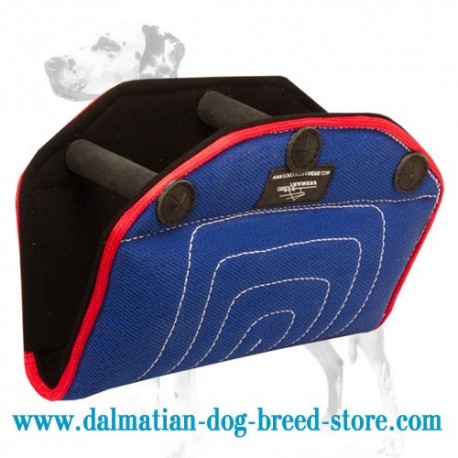 View larger
'Provoker' Dalmatian Training Dog Bite Builder Made of French Linen
PBB4F1045 Puppy Bite Builder made of French Linen
New product
In stock
Warning: Last items in stock!
Availability date: 01/01/2015
More info
Durable Bite Developer for Dalmatian Training
Do you want your beloved Dalmatian to be your personal defender? Then it's high time start training your lovely pup! And it's necessary to have a high-quality, reliable equipent for this responsible purpose! The presented Dog Grip Builder is tested and highly valued by lots of World's leading trainers. Its well-thought design, extreme durability and total safeness for your dog means short-coming results - just be persistant!

3 plastic handles provide you with confidence and control over the training process. Strong French linen surface is tear-resistant to serve for very long, and it's also rather challenging for a dog to bite.
Click on the pictures to see bigger image
Click on the pictures to see bigger image
Key features of this Dalmatian Training Bite Developer:

Soft, non-toxic material
100% dog safe
Extra durable surface
3 internal plastic hard handles
Convenient bite grip angle

Intended use of this Dalmatian Training Bite Developer:

Advanced bite training
Full bite grip building
Better position grip building
Stronger grip development
No denying, any dog supply should be health-safe, tear-proof, reliable and convenient in use. Just like this Dog Bite Builder is!

This item is made of safe and non-toxic French Linen. It's soft for gums and teeth and will cause no allergies to your doggie. Moreover, this material is widely used for production of bite suits, so you can guess its durability! So if you use it properly, it will serve you for very long.

This Dog Bite Builder is aimed at different kinds of training like police / military training, Schutzhund or IPO. Work with this item encourages your dog to bite, strengthens his / her jaw muscles, develops the grip angle.

The product's design is excellent for trainer's comfort. 3 padded internal handles and convenient to hold, and due to the padding, the palms are protected from rubbing.

So, get this Bite Builder right now and the result won't be long in coming!