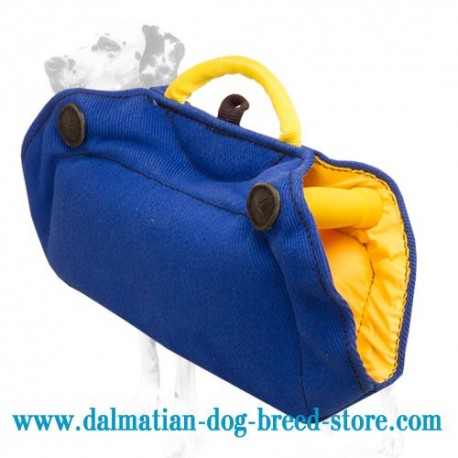 View larger
Dalmatian Dog Training Grip Builder made of French Linen
PBB3F1045 Puppy Bite Builder made of French Linen
New product
In stock
Warning: Last items in stock!
Availability date: 01/01/2015
More info
Basic Training Bite Developer for Dalmatian
Do you train your Dalmatian puppy for protection? Then it's vitally important to get a high-quality training gear. The presented puppy bite builder is created exactly for this aim. The item is equipped with 2 hard plastic handles, and an outside round one for your utmost comfort when training the dog. All the handles are easy to hold and provide quick grab when neccessary. Also, there's a loop for leash attachment under the central round handle; this loop is used for more diversified and excited training sessions.
Click on the pictures to see bigger image
Click on the pictures to see bigger image
Key features of this Dalmatian Puppy Training Bite Developer:

Soft, non-toxic material
100% dog safe
Extra durable surface
2 inside plastic hard handles
1 outside round handle
Easy bite grip angle for puppies
Nylon loop for leash attachment

Intended use of this Dalmatian Puppy Training Bite Developer:

Elementary puppy bite training
Full bite grip building
Better position grip building
Stronger grip development
The presented dog bite builder is the finest quality item meant to introduce the Dalmatian pup into protection training. Regular work with the use of this product makes your dog physically stimulated, helps to avoid boredom behavior, reduces stress arisen under the puppy's life in urban and develops his/her grip for future advanced training.

The bite builder has excellent, well-thought design for the trainer's ultimate comfort. It is lightweight, neither too big nor too small and equipped with easy-to-grab handles. French linen material is super durable and easy washable. There are no outside parts in the material that could cause allergies.