More info
Short Professional Dog Leash for Dalmatian
Are you looking for a leather lead for walking and training your Dalmatian? Have a look at this Short Professional Dog Leash! It is equipped with a special pump-lock, which is comfortable to hold between the fingers. This item helps you grab the leash fast when walking or training to take your pet closer to you.

This product is made of high-quality soft leather, hand-stitched with wax-coated threads. It is very reliable and long-servicing. The leash also has a metal swivel latch hook that helps you to avoid tangling.
Click on the pictures to see bigger image
Dalmatian dog lead of pure selected waxed leather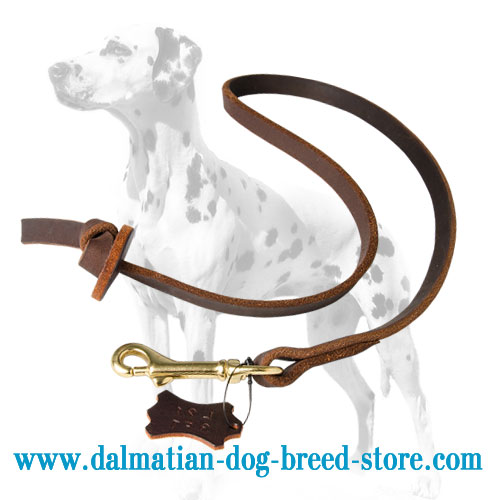 Leather dog leash for Dalmatian handling, secure stitching
Key features of this Dalmatian Dog Leash:

Made of leather
Brass snap hook (rustproof)
Smoothed edges
Soft to touch
Circular leather stopper
1/2 inch wide

Intended use of this Dalmatian Dog Leash:

Sizes available:

1 Ft (30 cm)
2 Ft (60 cm)
3 Ft (90 cm)

Available colors:
Learn more about this Dalmatian Dog Leash:
1) Genuine leather. The material is very strong and dependable. It withstands big loads and won't tear easily. Moreover, there are no outside toxicants in the leather, so your pet and family members are protected from possible allergies.
2) Convenient use. The leather is soft to the touch and the item itself has a special circular stopper to hold between the fingers. This novelty can bring much more comfort for dog handlers.
3) Secure stitching. Wax coated threads are used for this aim. It ensures tear-resistance of the seam, elasticity and far increases durability.
4) Brass snap hook. It is rustproof and solid that provides long lifetime.