Dalmatian hand-painted leather dog harness with hot flames
Tired of tasteless unreliable dog equipment? Do you want to enjoy time spending with your pet? If the answer is Yes we are glad that you visited our site. Here you can find quality safe dog equipment made according to the highest standards of safety and quality. We are happy you trust us and we promise our products won't upset you with any detail. This page has information about the most Extraordinary leather dog harness designed to fit Dalmatian breed. Hand-painting will brighten your dog's daily life.
Click on the picture to see bigger image
Click on the pictures to see bigger image
Key features of this Dalmatian Harness:

100% full grain genuine leather
super strong
excellent durability
4 ways adjustable
felt padding on the chest plate and neck straps
wide chest plate
wide straps
sturdy quick release buckle
be-in-control handle
strong nickel plated steel fittings
safe water-resistant
hand-painted

Intended use of this Dalmatian Harness:

walking in style
obedience training
off leash training
safe walking
agitation training

Sizes available:

small
medium
large
extra large

Available colors:
Check how our products look on the dogs / Pictures from Customers
Click on the pictures to see bigger image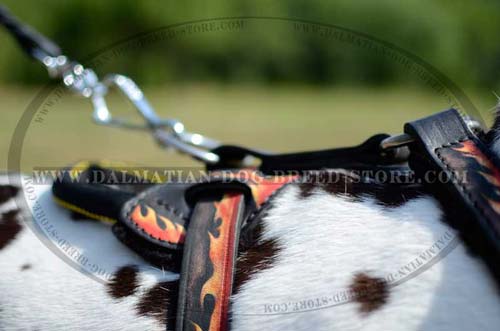 Dalmatian harness leather with ring for leash attachment
All facts about this Dalmatian harness:

Safe reliable materials. Due to careful selection of genuine leather we can guarantee that even under extreme agitation or pulling the harness won't tear. Our products are not meant for certain term of use, they are made for eternity. Of course you may want to change this harness with the course of time, but not because it is poor-looking or not safe to use, you may do it because our designers will invent something new and you won't be able to resist buying brand-new product.

Handle your pet with comfort. This harness allows perfect control over your Dalmatian. Hold soft handle when you need to restrain your dog. Save time on putting harness on and off. With quick release buckle this harness is super easy to use.

Let your dog appreciate the ultimate comfort of this harness. Due to inside felt padding on the chest plate and neck straps the harness is pleasant to wear. No rubbing or skin allergies - isn't it a Dalmatian dream-harness? - Sure it is!

As Dalmatian is a royal breed the equipment for it should be not only quality and comfort but fancy as well. We want your pet to arrest attention of everyone around. That is why our designers spent hours to paint this harness with safe water-resistant paint. Flames are burning on it. Especially it looks cool when your dog is being trained or runs. Believe us, there is no way of two harnesses looking the same. As it is done by an artist, every new harness has new strokes and will never look the same like previous or future one. So, unique style of your dog is ensured!
Check how our products look on the dogs / Pictures from Customers
Click on the pictures to see bigger image
Dalmatian harness leather painted in flames